Contributions, Questions, Answers
November 2022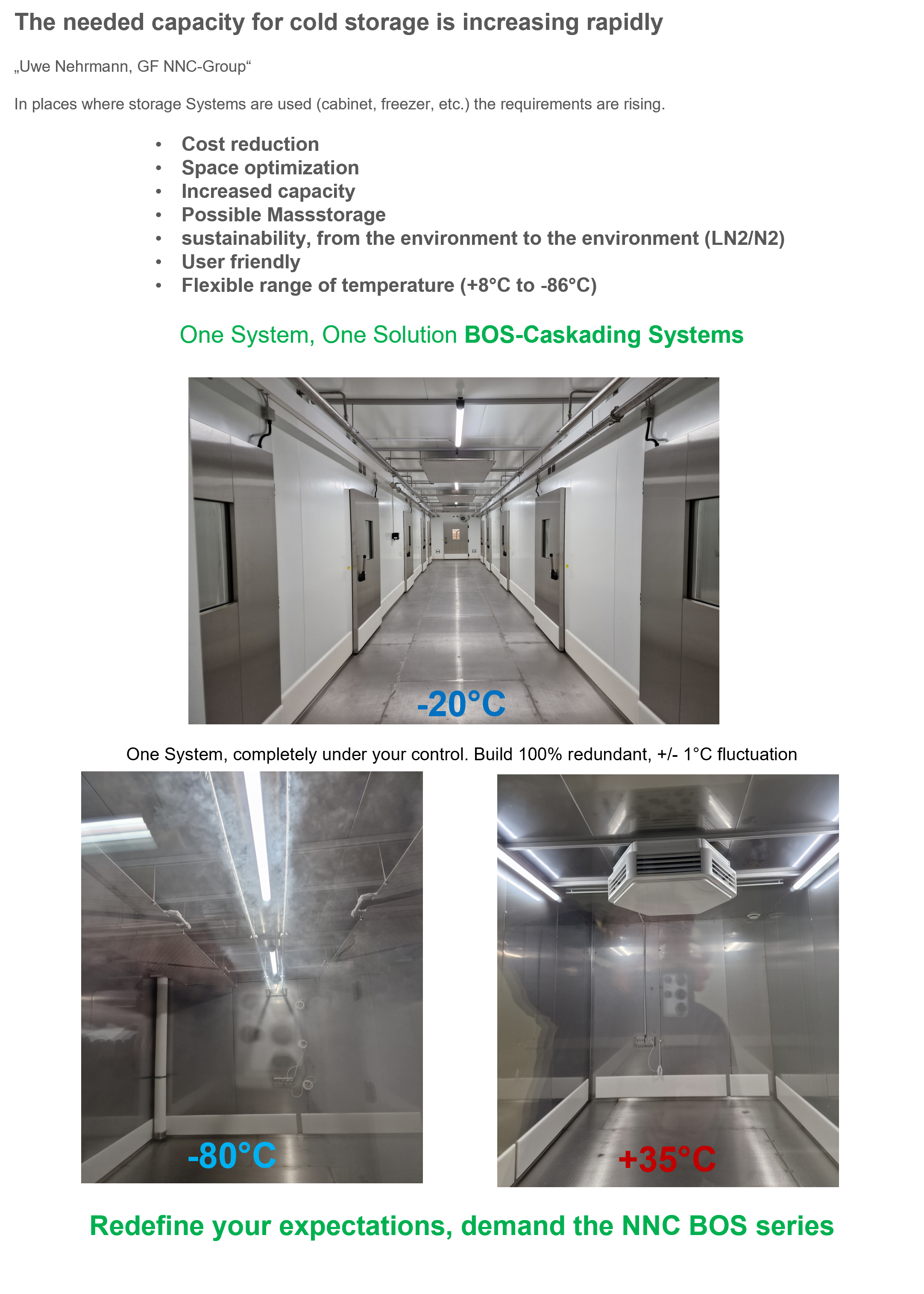 August 2021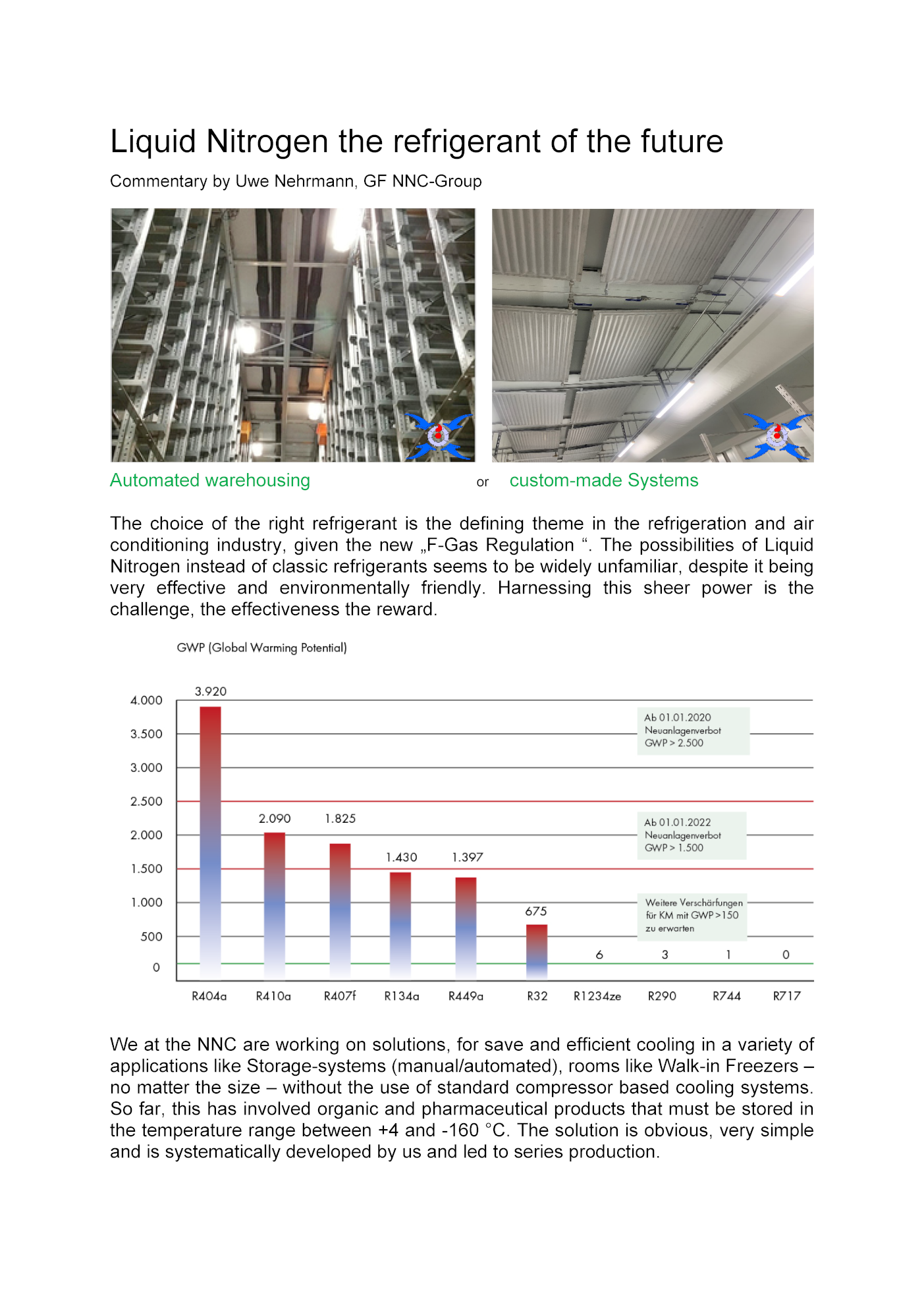 June 2021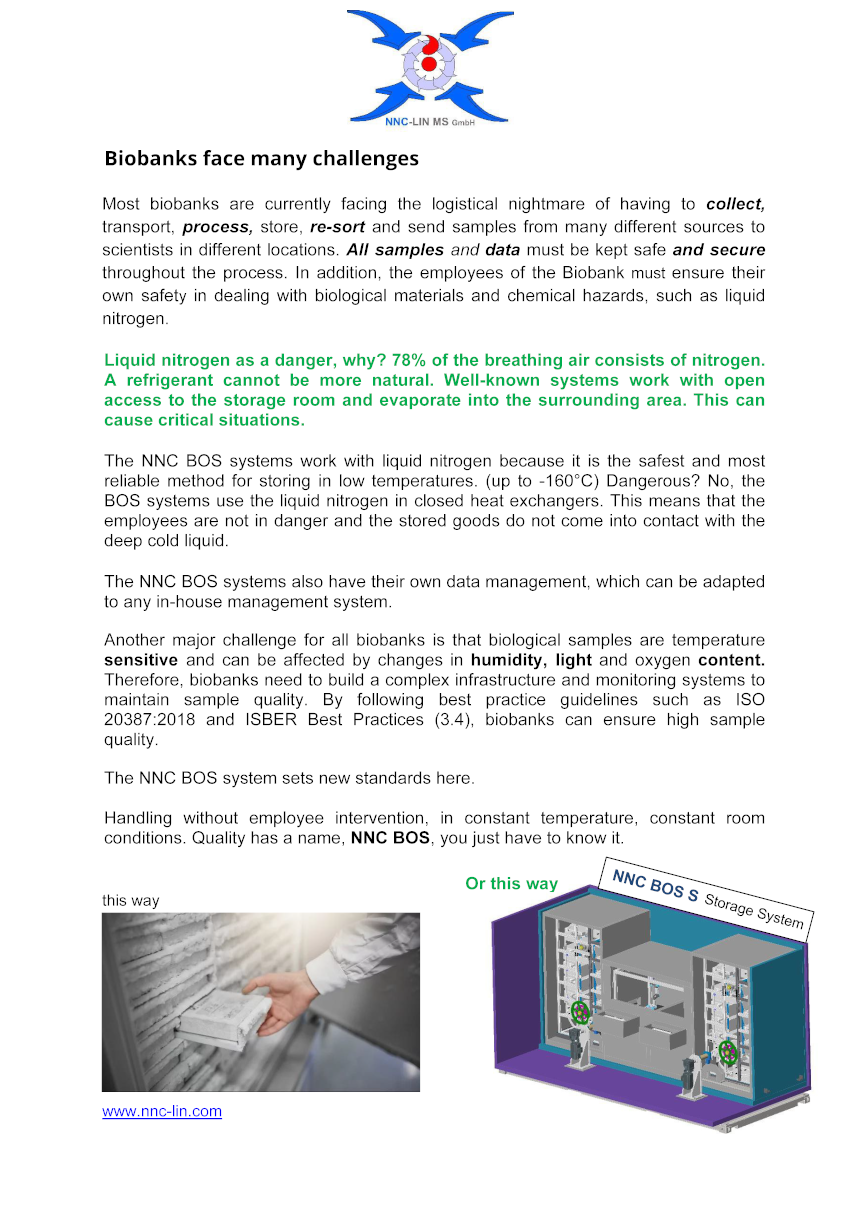 ---
June 2020
How are you routing your pipes and other lines into cold storage rooms today?
Damage done to cold rooms by unsuitable feedthroughs is vast. In addition, the effort needed to maintain, replace and expand is huge.
Most common problems are:
With one component all these problems will be a thing of the past. Contact us!
May 2017
BOS S 3000, drum bearing systems
The known and proven drum bearing systems down to -50 ° C have been revised.
The new systems have a far more powerful isolation and the optimized economic possibility to lay and manage highly organized products down to -86 ° C.
New storage area, new insulation, new operating concept:
Approx. 3000l effective volume
Approx. 4 m² floor space
New, ultra-light storage containers
Temperature range + 10 ° C to -86 ° C
New control panel with touch screen
Optional cold water delivery
Optional cold gas delivery
---
November 2011
Rotating devices for erythrocytes
Erythrocytes lose some of their activity under conventional conditions of static storage at temperatures between +2°C and +6°C (max. 48 days) in nutritive solutions due to time-dependent stacking at rest.The Red Cross in Innsbruck has established that samples that were stirred several times during storage displayed greater viability. Furthermore, other data suggest that stored RBCs should be stirred or thoroughly mixed at least once per week. The BOS S 3000/86 storage system from NNC incorporates this as a standard feature. A new development by NNC, the BOS S RBG storage system, can also be supplied with a rotating unit on request.
'Cascade', the new cell concept from NNC-MED Consulting
Current cold rooms are designed with an insulating wall so as to keep heat from penetrating into the interior for as long as possible. Advanced designs incorporate super vacuum insulation panels. NNC uses a different technique to optimize cooling -- a double-wall design incorporating two insulation panels of equal thickness that are separated by a plenum chamber. Cooling is effected with (LN2); the decompressed N2 then cools the plenum. This triple-layer separation of the internal environment from external temperatures results in a greatly extended warm-up time of the internal space and the stored products.
Experiments in a test cell (4,000 mm wide / 6,000 mm high / 6,000 mm deep) at the Development Centre yielded the following results:Warm-up after turning off the cooling:
Heating during the cooling system is off
40°C to -30°C
29 hours
0.35 K/h
-30°C to -20°C
30 hours
0.33 K/h
-20°C to -10°C
42 hours
0.23 K/h
-10°C to 0°C
54 hours
0.18 K/h
+2°C to +6°C
203 hours
0.019 K/h
-40°C to +6°C
775 hours
0.059 K/h Total test process
We would be happy to develop the right design and optimize operating procedures for you.
The combination of cost-containment, improved products and more reliable work processes is a worthwhile goal that we can help you achieve.
June 2010
What happens if frozen plasma is left lying unprotected in the work area for longer than 5 minutes?
This happens all the time, with little awareness of the significant consequences.
Expensive freezing systems are purchased, processes are tested and one starts out with good intentions, but then:
The freezer has done its job and reports that the plasma has been frozen to a core temperature of -30°C. The surface temperature of the plasma is -40°C, the subsequent storage temperature.
Packs and barcodes are checked again.
The plasma is placed in a container. Insulated/not insulated?
The container is sitting on a trolley.
It is taken to the storage facility (quarantine store).
The plasma is taken out of the container and stored.
How long does this take?
At least 30 minutes elapses between removal from the freezer and placement in the quarantine store, so products are often stored in the refrigerator in the meantime. Sometimes there is a wait until results are received from the laboratory.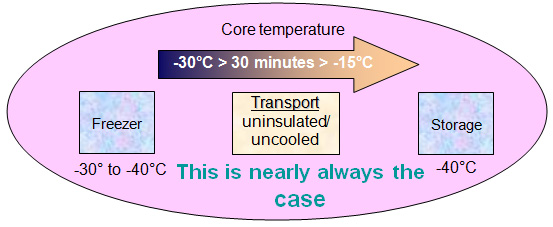 Measurements have shown that a considerable change in temperature takes place after holding plasma unprotected even for very short periods. This must be avoided. Appropriate equipment and compliance with guidelines are essential.
What can I do, how should I do it?
The most important rule is compliance with the processes described (SOP). One problem is the lack of technical equipment (proper transport systems). A further point is the arrangement of the functional areas. Ideally, the freezer should be located next to the end storage system, so that the time between removal from the freezer and storage is minimal.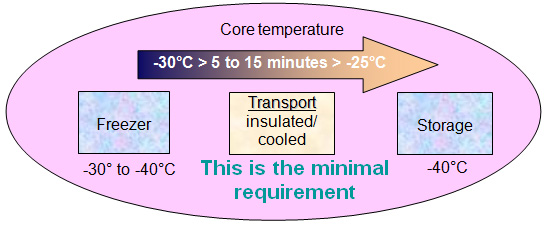 In order to illustrate how the plasma is affected, we have made some measurements.
During post-processing, we placed a sensor at the centre of the plasma pack and recorded the temperature.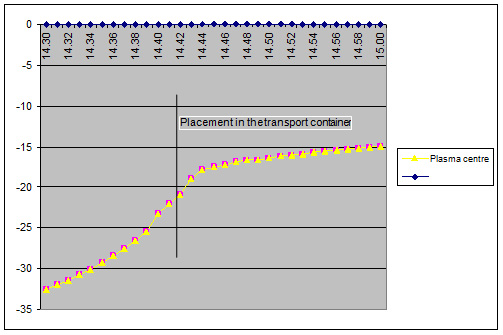 In July you will find out about modern installations and their construction, including seamless monitoring of your biological materials store.
We would be happy to tell you more about these issues in a comprehensive consultation.
Uwe Nehrmann
NNC Group
---
May 2010
Why is it so important,
that biological material is stored in an organised manner, with appropriate systems?
It is not very easy to answer this question. It is not simply about the ease of locating the products. The search for products and their storage in conventional systems such as refrigerators, freezers and cold stores entails the danger that the temperature of products stored like this can change significantly, making damage inevitable. It is a challenge for the industry to provide systems that can prevent such damage.
This includes:
Low product holding times at ambient temperature
Accurate labelling of all stored products and their locations
Short handling times (storage and retrieval)
Protected handling areas, in which stored products are still protected from heat, even though they have left the main store or are yet to be stored.
Rapid response capability of cold-generating equipment. This avoids delays of some hours in reaching the required temperature.
High-quality insulation in order to keep energy requirements low. It should be noted that the topic of energy consumption is unfortunately not considered as a whole. Compressor systems not only generate cold - above all they generate waste heat, which must usually be dissipated with expensive air conditioning systems. The energy requirement of compressor systems can therefore be calculated as follows:
"Input energy of the compressor unit + energy expenditure of air conditioning system" = Total energycoast
Large openings in storage units mean that, particularly at low temperatures (-40°C to -86°C), warm and damp air enters and the system ices up severely. Severely enough that regular de-frosting is necessary. This can be avoided with the right choice of system, saving much energy and effort.
Appropriate temperature sensors and sensor locations. Modern systems work with open, unbuffered temperature measurements. This guarantees correct recording and that the temperature time course is always objectively and correctly registered.
In June you will find out what happens when frozen plasma is left unprotected in the workplace for longer than 2 minutes.
We will be happy to provide you with more information on this topic as part of a comprehensive consultation.
Uwe Nehrmann
NNC-LIN Group