News
Latest
May 2021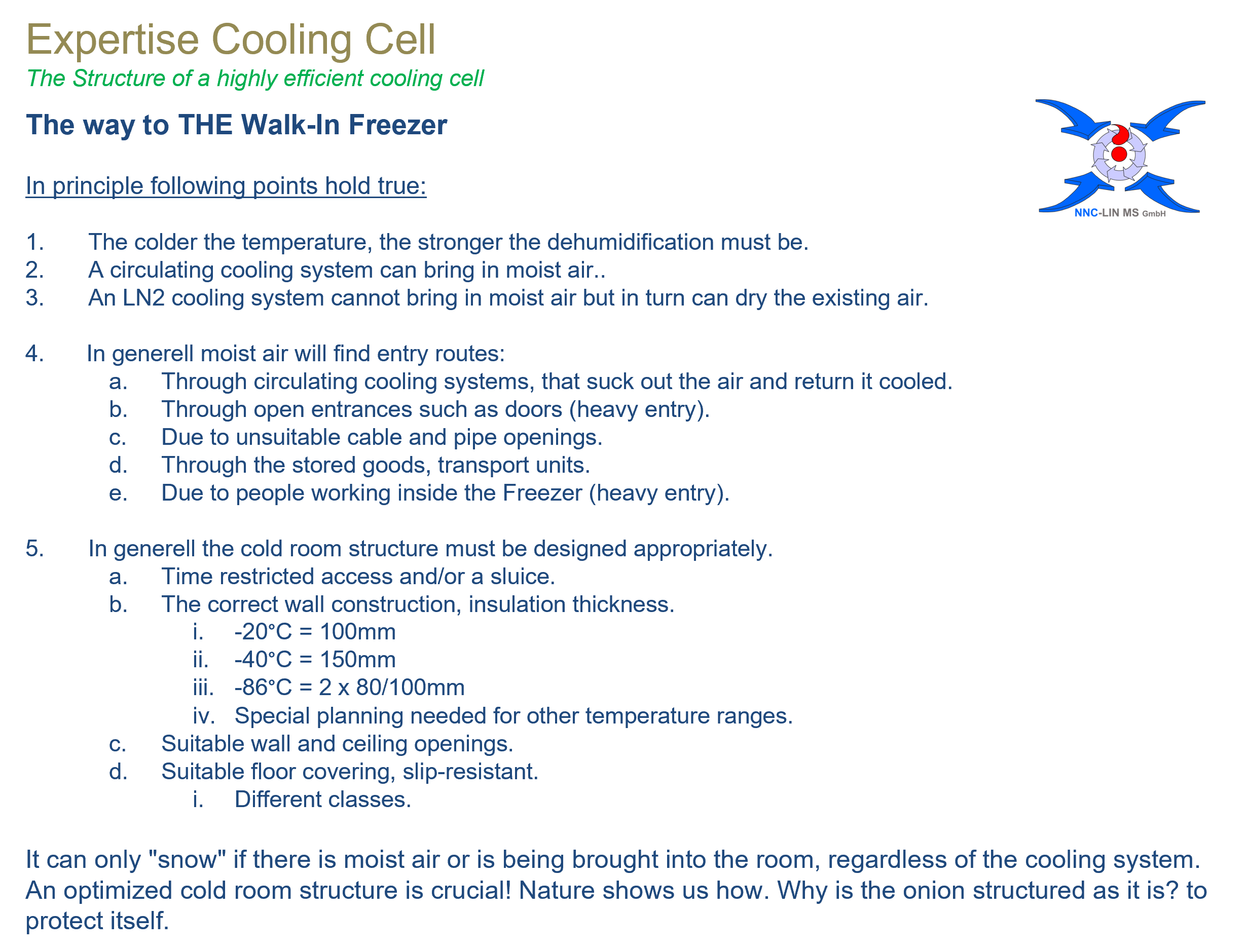 ---
October 2019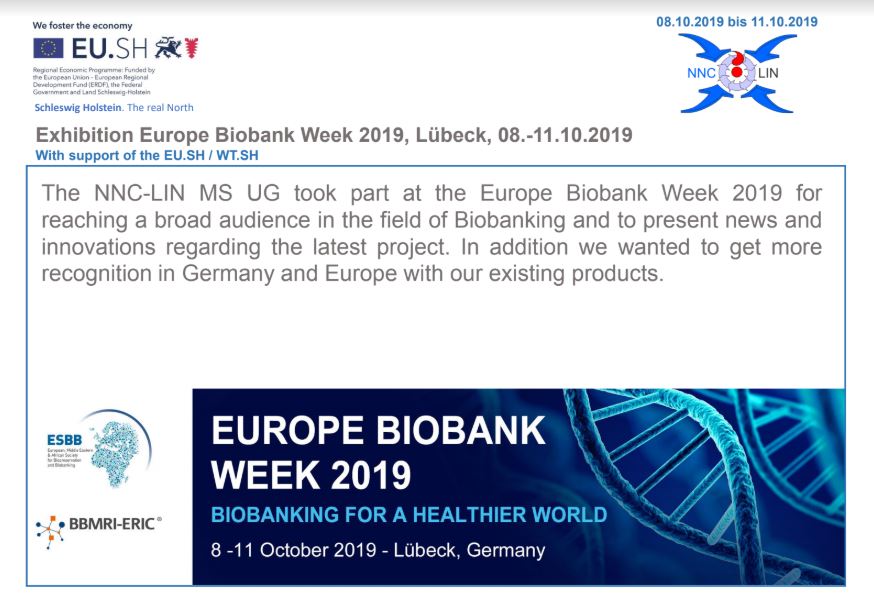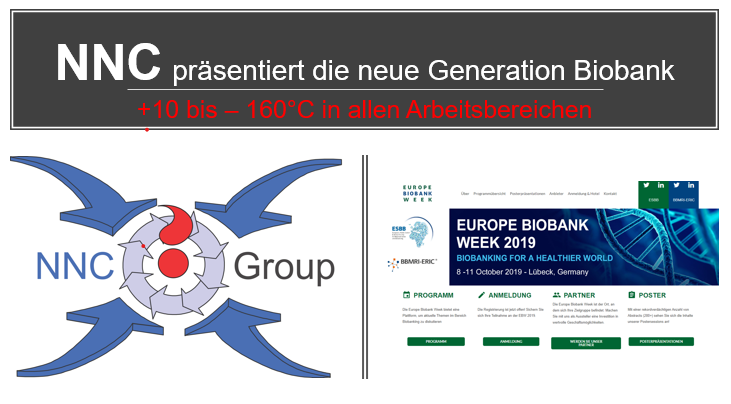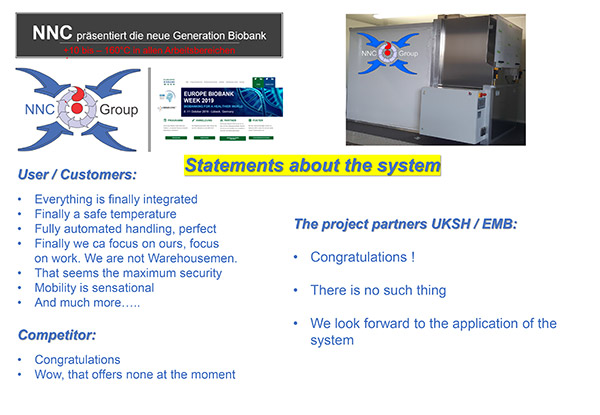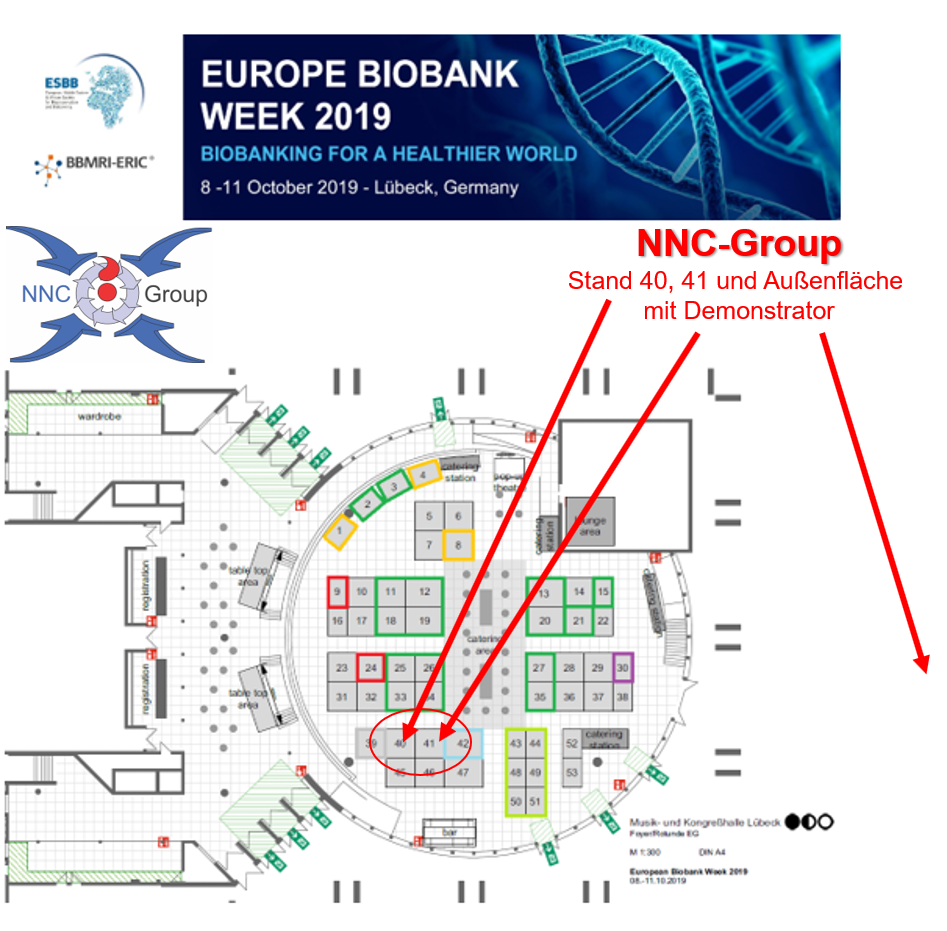 ---
December 2018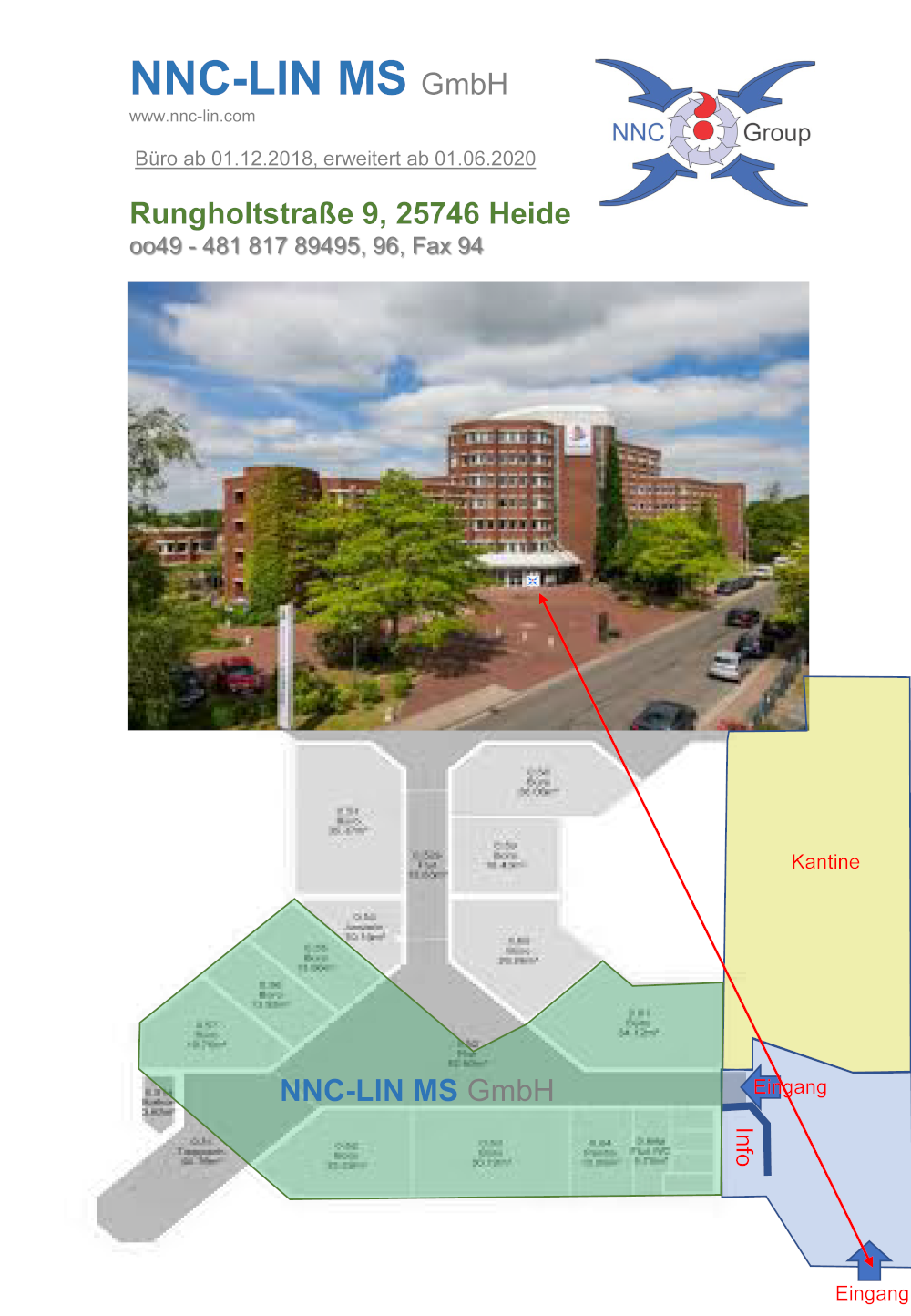 ---
July 2018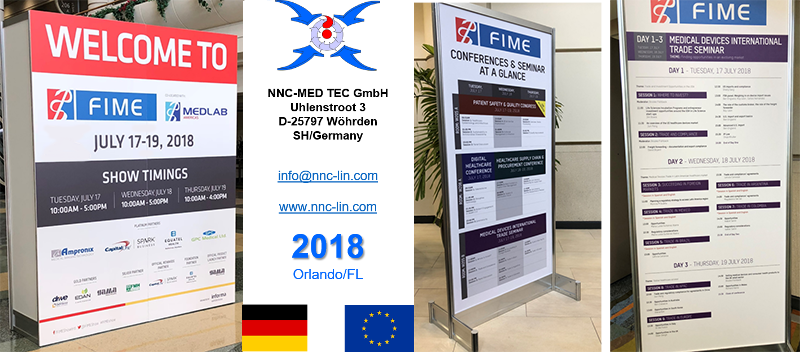 ---
February 2018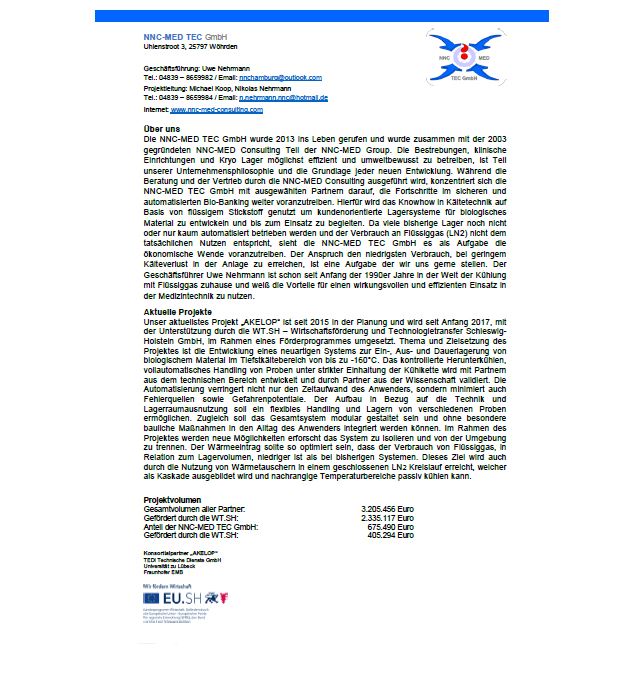 ---
September 2017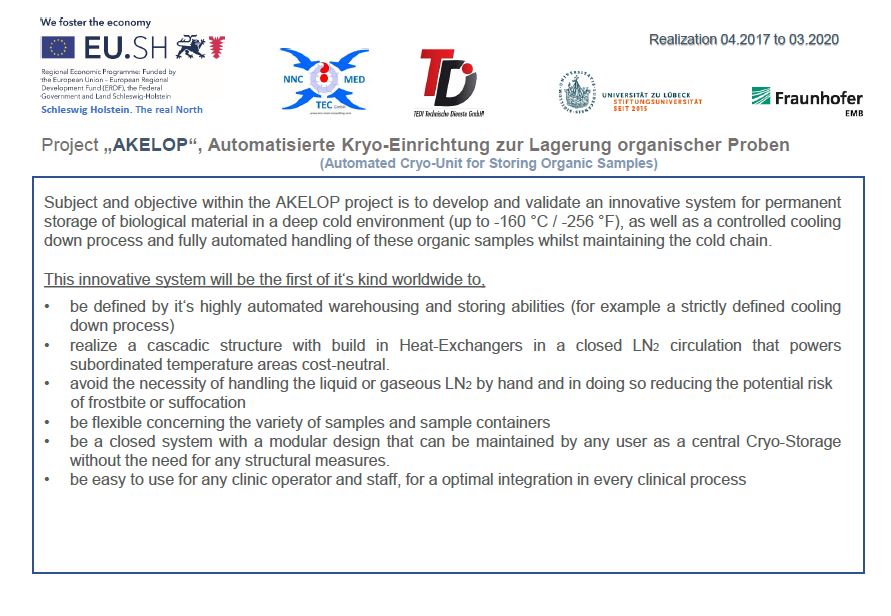 ---
January 2016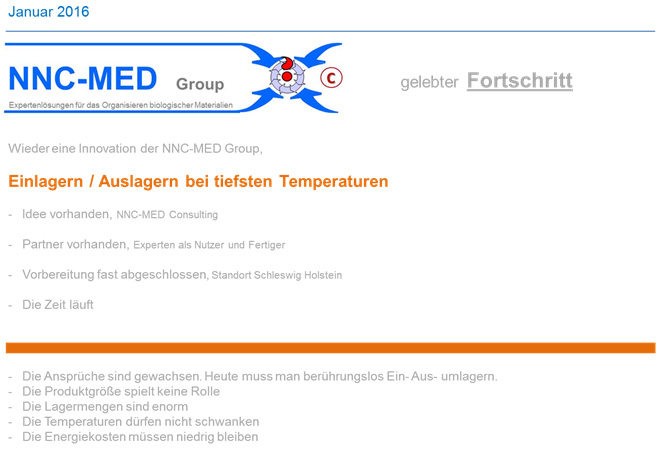 ---
June 2012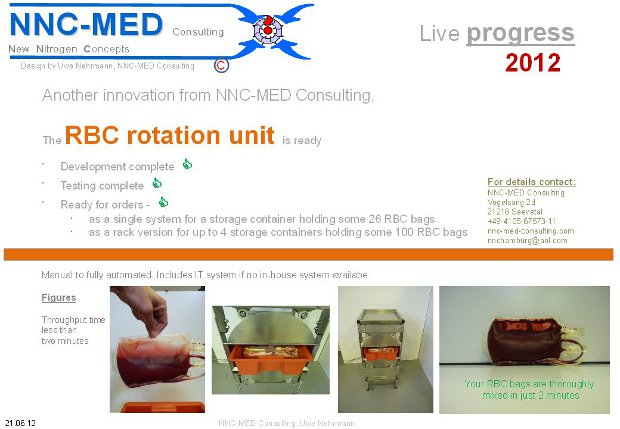 ---
November 2011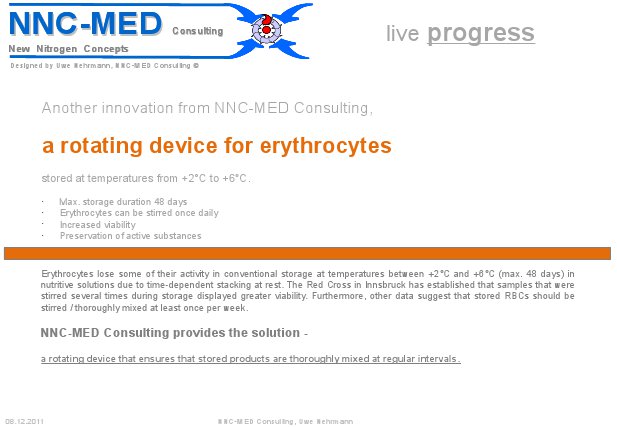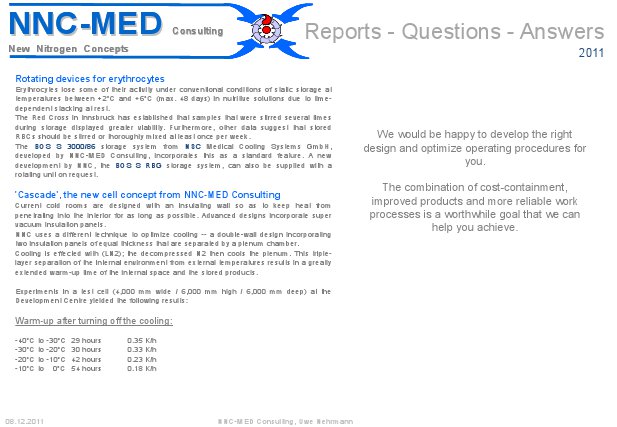 ---
August 2011
---
July 2011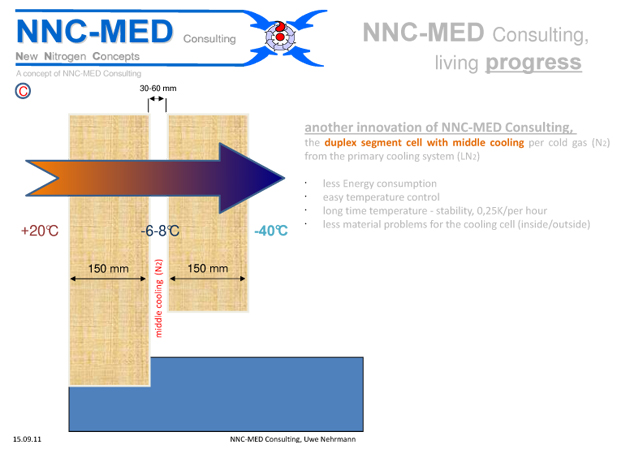 ---
February 2011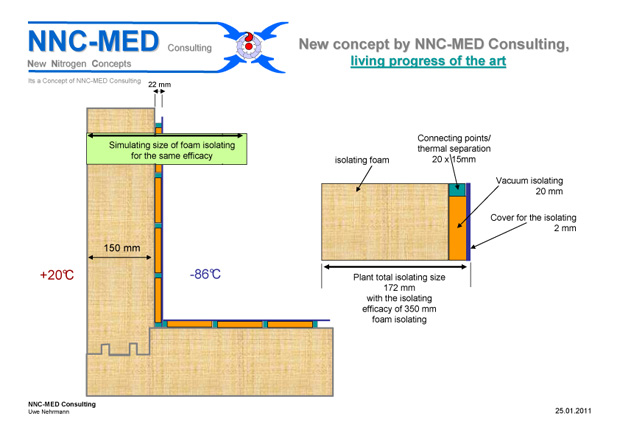 ---
December 2010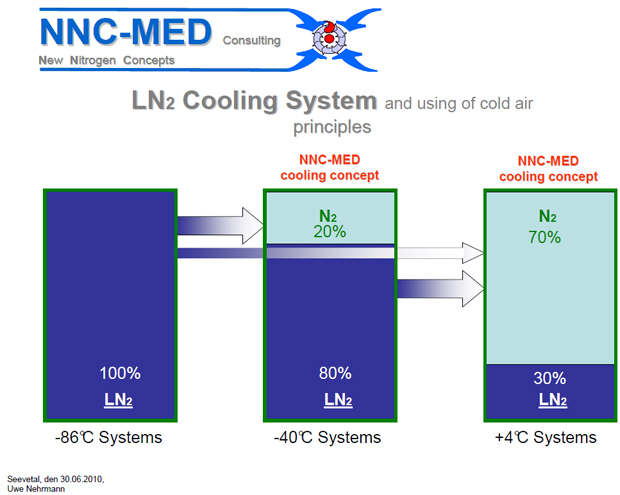 ---
August 2010
Product Information
BOS-S-86/800 Storage System
for biological materials at a tempertaure range from +10° to -86° Celsius
Term for delivery 4 weeks
Preservation of biological material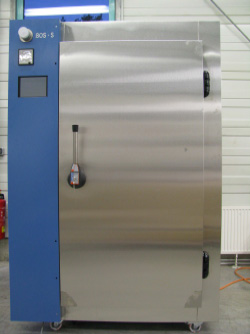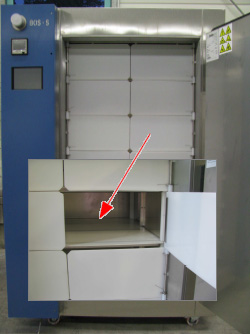 Advantages at a glance
600 to 800 store slots for 450ml bags
Approx 1.2 m² floor space
Totally organized and controlled
Complete monitoring
LN2 cooling system
No heat, no noise
Foot print 1100/1100/1850 mm (L/B/H)
Low operating costs
Small investment
Options:
Integrated blast freezer for 6-8 Plasma in 30 minutes
down to -30°C inside
Exhausted cold N2 can be used for air condition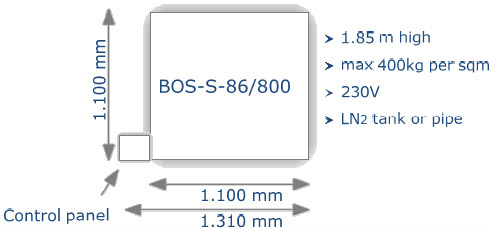 ---
May 2010
Eine NNC Development on the way to Europe
http://www.laborpraxis.vogel.de/labortechnik/temperieren/kuehlschraenke/articles/263761/?cmp=beleg-mail
---
March 2010
NNC developed a new programm for Blastfreezer administration.
---
December 2009
NNC presents BOS in Turkey
New concepts are also needed in this part of the world, in order to make storage safe and to reduce costs. Good prerequisites for the deployment of the BOS system family.
---
September 2009
Developments are taking shape
Summer is finally over and projects are taking concrete shape. A new freezing device for multi-phase collection of study data at different cooling rates is nearing completion.
Soon, -150°C will no longer be wishful thinking. Freezing/storing and organising will become a commercial reality! New cooperation partners are currently being engaged, so look forward to the next few months.
---
July 2009
Spain Ole
A second trip to Spain confirmed all expectations. NNC already has initial projects at the offer phase. The support of Air Liquide has been very helpful here.
---
June 2009
Spain calling
As well as its activities in Turkey and Dubai, NNC is also supporting the acquisition of new customers in Spain. Initial promising contacts have already been made. Very soon, NNC will have an active distributorship in the region.
---
May 2009
BOS-S/150 Development
Development is entering its decisive preparatory phase. In future, storing biological materials at temperatures of down to minus 150°C will be improved and safer in many respects.
---
April 2009
University Clinic Düsseldorf
The move from the old plant has been successful; BOS-S/040 has started work. Responsibility for all products could be handed over to the plants without any complications. NNC would like to thank the staff of the clinic and all helpers for their excellent cooperation.
---
March 2009
Turkey
Negotiations with high-ranking representatives of Turkish interest groups were successful. NNC must present concepts and technical solutions that will set new standards.
NNC
supports negotiations in many European, Arab and Asian countries. NNC has a successful international presence and is currently working on very interesting contracts and highly professional discussions on cooperation.
---
January 2009
Arab Health, the trade fair was a success - Pictures
---
December 2008
Dubai
The container is on the water. Departure from Seevetal.
---
November 2008
Dubai is in preparation. The container is there, the fittings are in production.
Filming installation of the BOS-S/040 systems at the University Clinic Düsseldorf has been concluded. The film will be edited by the beginning of December, copied onto DVD and can then be accessed by interested parties.
A team of 4 specialists and an actor have really worked hard. 2 days of shooting are behind us.
---
October 2008
University Clinic Düsseldorf: All 34 BOS-S 040 systems have been cleaned and disinfected.
---
September 2008
Development of BOS S/150 is going according to plan.
The installation at the University Clinic Düsseldorf will be completed with the final "improvements" in the 38th calendar week. The temperature tests that have already started have exceeded all expectations.
The development of the new BOS-T is completed, 3 systems have already been delivered to the University Clinic Düsseldorf.
view BOS-T?
---
August 2008
The audit for MC-CE testing has taken place, successfully of course! The original certificate is expected by mid-October.
An initial working session between NNC and the Cryotherm company resulted in good initiatives for the development of the semi-automated BOS-S Type 150. The system is being prepared for the -150°C field of application and will have all the functional advantages of the BOS-S Type 40.
The plants at the University Clinic Düsseldorf for accommodating around 60,000 plasmas at -43°C, approx. 280,000 special reference samples and approx. 250,000 reference samples are completely installed. Qualification tests will take place in the 37th calendar week, and then storage can begin.
Things get serious on 29.08.2008, the systems in the University Clinic Düsseldorf will be MP-CE tested.
NNC has earned the contract to prepare the systems for cryopreservation.
Planning has started, semi-automated for -150°C.
"All mouth, all substance"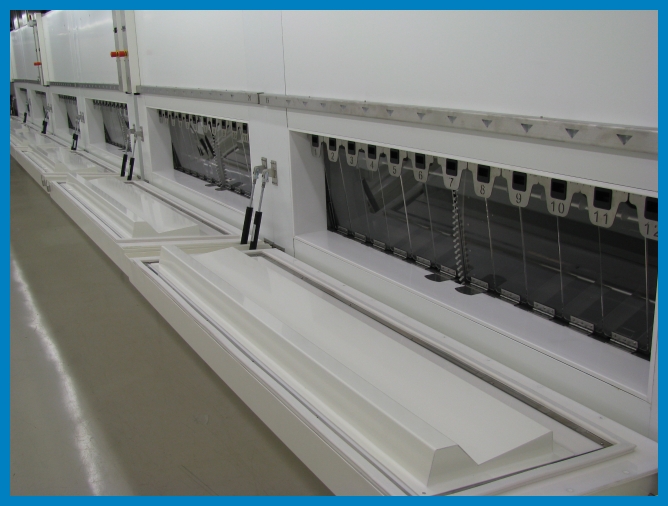 "Life" begins, and safety is already ensured. The tank has been filled and the prescribed gas warning system is now operating.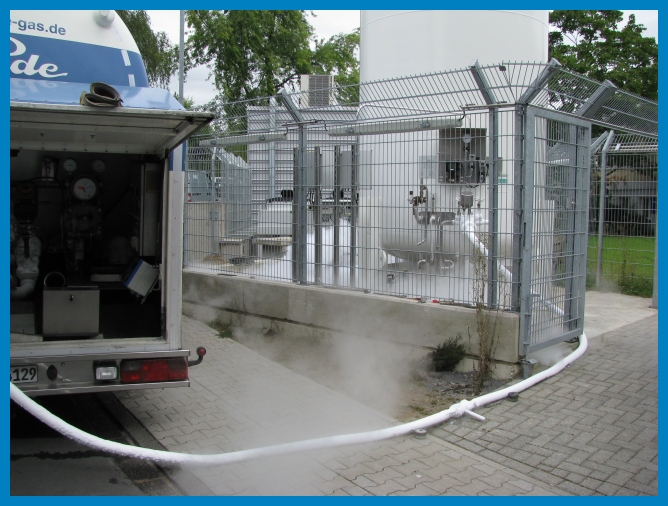 Installation starts. Within a week, the systems are wired and connected to the cold gas supply; the data processing is prepared and ready for the tests in the 34th calendar week. The required nitrogen has been ordered, and off it goes!
Event
May 2023 - 11th National Biobank Symposium

---
December 2019 - 8th National Biobank Symposium
---
October 2019 - Europe Biobank Week 2019
---
17.07 bis 19.07.2018 - FIME 2018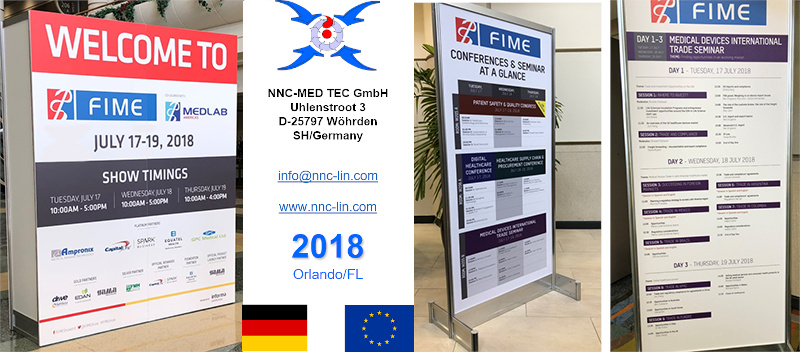 ---
29.06.2018 - Open Door, Fraunhofer Institut Lübeck, EMB
NNC as a Sponsor
---
24.10. bis 27.10.2017 - NNC is visiting an Event
at the "DGTI Congress" in Köln/Germany
---
28.01. bis 31.01.2013 - "Arab Health" in Dubai
---
11.09. bis 14.09.2012 - NNC exhibition
at the "DGTI Congress" in Graz/Austria
---
November 2010 - NNC exhibition
at the "National Congress of Blood Centers and Transfusion Medicine" in Beleg, Turkey
---
25.06. bis 01.07.2010 - NNC at the DGTI/ISBT 2010 in Berlin
Vom 25.06.-01.07.2010 experts and users meet at one of the most important exhibitions.
---
December 2009
Presentation in Turkey, Red Halfmoon.
---
November 2009 - Medica in Düsseldorf
important Meetings and opportunities.
---
September 2009 - NNC at the DGTI - in Rostock
---
Januar 2009 - NNC at the Arab Health in Dubai
---
19.11. bis 22.11.2008 - MEDICA 2008 "40. Weltforum der Medizin" in Düsseldorf
NNC as a guest
---